Last Thursday , November 29, we have organized a successful 4th edition of Trends in Machine Vision2018. This time at the Vision Light Tech location in Uden at our optical lab where products can be extensively tested in a wide range of lenses and lighting.
To presentation and content fo the Trends in Machinevision was given by our partners from Matrox imaging (Jason McDonald), Sony Ltd. (Neil Potts & Arnaud Destruels) and HTK Europe Limited (Samuel Capovilla) and is mainly organized as lectures for our relationships within machine builders and system integrators.
The latest developments and products were presented and the specifications and applicability within the applications of the participants were discussed in more detail.
Sony Ltd. presented the very innovative possibilities with the new polarizing camera and sensor technology and the versatility of the FCB camera module was scrutinized.
Subsequently, the Deep-learning modules from Matrox imaging and applicability at the application level were presented. This also emphasized the importance of the robust standard (Matrox-MIL) vision tools.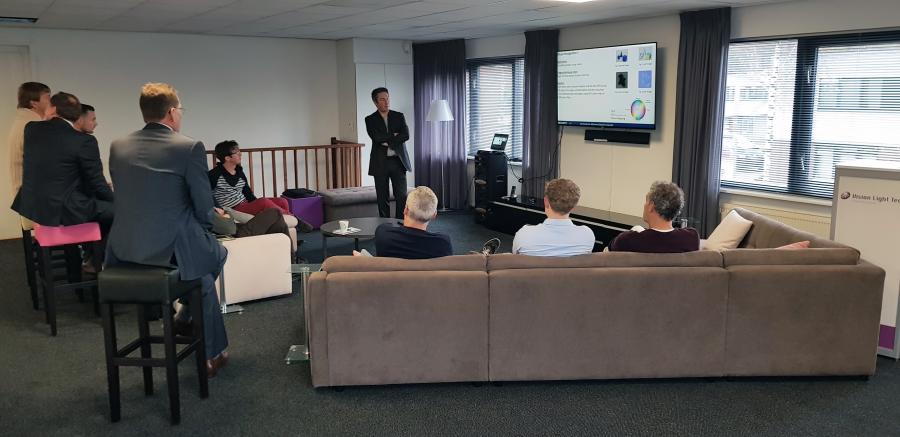 Where high bandwidth camera modules and interfacing are involved, the importance of qualitative cabling is indispensable within the vision applications. This was clarified by the cable and connectors specialist HTK (Honda). Especially with the emergence and possibilities of the latest Coaxpress interface, the cable solutions were extensively discussed.
All in all, we are convinced by the interest of those present and the reactions received that it was again a useful, informative afternoon where we shared the latest developments with our clients in creating new possibilities within the vision applications.
Are you also interested in our story and to explore the versatile possibilities within the machine vision? Please sign up soon on our site for the next Trends (2019). Or contact our sales-team van DVC.